The Vietnam Stage Artists Association (VSAA) Awards 2009 took place March 31 in Hanoi, honoring the country's greatest plays and writers. In an unorthodox move, however, no award was handed out this year for best play script.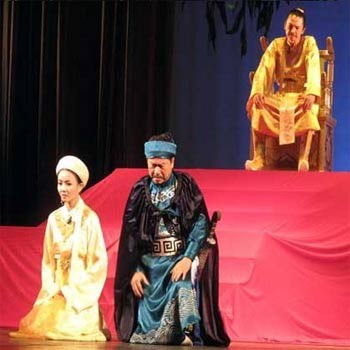 A scene from the play Giai nhan va Anh hung (Beauty and Hero) by Chu Thom. The play won a "Class B" award at the annual VSAA Awards 2009 on March 31 in Hanoi.
People's Artist Doan Hoang Giang said that this year, the association received plenty of scripts highlighting different concepts and staging methods, but none impressed judges enough to win the prestigious "Class A" award. 
Two "Class B" awards were given out instead to Giai nhan va Anh hung (Beauty and Hero) by Chu Thom, and Co chuan Dien Bien (Target Flag in Dien Bien) by Le Quy Huyen, both from Hanoi. Thom and Huyen each received a cash award of VND15 million (US$770). 
Three "Class C" prizes, each worth VND12 million ($615), were given to playwrights from Hanoi, south-central Binh Dinh Province, and the Mekong Delta Province of An Giang. 
In the category of "Publication: books-research-theory," writer Vu Ngoc Lien from Binh Dinh won top honors for her reference book about the life and work of the forefather of traditional hat boi singing, Dao Tan.  
Three Class B and four Class C prizes were also awarded in this category. 
Plays represented the largest category of winners this year, with 10 Class A and 22 Class B prizes given out in total.  
Top winners included plays performed by the Vietnam Cai luong Theatre, Vietnam Drama Theatre, Dao Tan Theatre, Cai luong troupes from Dong Nai and Dong Thap, and the Cheo Theatres of Ninh Binh and Nam Dinh.  
Each Class A winner received VND13 million ($660) while Class B winners pocketed VND10 million ($510). No Class C prize was given for this group.  
The highlight of the ceremony was an award granted by the Association's Art Board. Scriptwriter Mich Quang, who wrote the impressive Giac mong Ho Hoa (Ho Hoa's Dream), was announced the winner of the VND7 million ($360) prize. 
The annual VSAA Awards were first launched in 1957, the same year the association was founded.