Walt Disney Co., the second largest US media company, announced in Ho Chi Minh City on May 17 that it recently signed a licensing agreement with East Media Holdings Inc. (EMHI) to sell toys, apparel and other consumer products in Viet Nam, Cambodia and Laos.
"Viet Nam is a very dynamic market that is experiencing tremendous growth and with this announcement, three of our four lines of business – Disney consumer products, studios, and media networks – are present here," said Mr. Douglas Miller, executive vice president and managing director, Walt Disney International.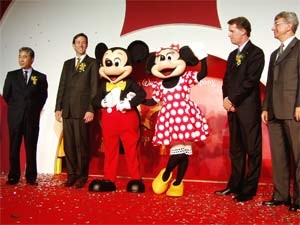 (From L) Allen Wu, Ken Chaplin, Mickey Mouse, Minnie Mouse, Douglas Miller and Robert Bannerman greet Vietnamese at the ceremony (Photo: Tuong Thuy)
US-based EMHI's master license covers all permitted product types from clothing and footwear to stationery and furniture, and allows the company to commission production from any factory that can meet Disney's global labor standards, said Ken Chaplin, Disney Consumer Products' vice president for emerging markets. He added Viet Nam is the primary target in this agreement.
 
"Disney Consumer Products is looking to a long-term approach in Viet Nam, as we build relationships with retailers and deepen awareness of our characters as this market develops."
"EMHI will help us to play an integral role in the growth and localization of products suited and tailored for the local market," he added.
EMHI has appointed its subsidiary Creative Media Co., a Ho Chi Minh City-based Vietnamese company, to develop marketing initiatives to build and grow awareness of Disney in Viet Nam, Laos and Cambodia.
EMHI chairman and CEO Allen Wu said Disney-branded products will be available in Viet Nam this October, and his company is cooperating with Vietnamese companies and multinationals in this business. "My company wants to build a home base in Viet Nam," added Mr. Wu, whose wife is an American of Vietnamese, born in former Saigon City, and speaks Vietnamese like a local.
"Many Disney-branded products are being made in China but this does not mean that all have to be produced in China. I'd love to see Disney products manufactured in Viet Nam. I'm visiting some local manufacturers to know their capacity," said Mr. Wu.
Mr. Robert Bannerman, principal commercial officer with the American Consulate General in Ho Chi Minh City, said at the ceremony that Disney's announcement of the license for its products for sale in Indochina is a big event, and another important event related to American investment was the fact that Intel, the world's biggest chip maker, announced its US$605-million investment for its chip factory in Ho Chi Minh this February.
He added the US hopes Viet Nam to join the World Trade Organization by the time Viet Nam hosts the APEC Summit this November. "By joining WTO, Viet Nam will send a strong signal to the world that the country welcomes American investors with improved policies."
Viet Nam's economic growth has accelerated every year since 2000, averaging 7.4 percent. The Government is targeting an annual expansion of at least 8 percent over the next five years in a bid to end being classified among lower-income nations. Per capita income was $640 in 2005, up from $550 the previous year.
Popular Disney characters Mickey and Minnie are in Viet Nam now to mark the event of Walt Disney. They visited the Children Hospital 1 in Ho Chi Minh City on Wednesday and will travel to Ha Noi to visit the Central Children Hospital.
No plans for Disney Land in Viet Nam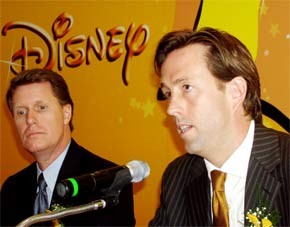 Mr. Miller (L) and Mr. Chaplin at the press conference (Photo: Tuong Thuy)
At the press conference after the announcement ceremony, Mr. Douglas Miller stressed that Walt Disney has no plans to build a Disney Land park in Viet Nam, despite some information having said that it plans to build a Disney Land in the southern province of Ba Ria-Vung Tau.
Regarding protection of copy rights of Disney-branded products in Viet Nam, Mr. Wu said the copy rights could be protected thanks to three elements: pricing is suitable, the distribution system is good enough, and customers will buy licensed products of Walt Disney because of their values.
Film Distribution
Separately, Disney film distribution unit Buena Vista International said in an April 21 statement that it will enter Viet Nam through MegaStar Joint Venture Co., owned by Envoy Media Partners and the Phuong Nam Corp. MegaStar will distribute movies including "Cars" by Disney animation unit Pixar and "Pirates of the Caribbean 2 - Dead Man's Chest", both of which are scheduled for release in the third quarter this year.