A Stall displaying products made from warheads and cartridges is of special interest to thousands of people flocking to Tao Dan Park in Ho Chi Minh City for the annual spring flower festival.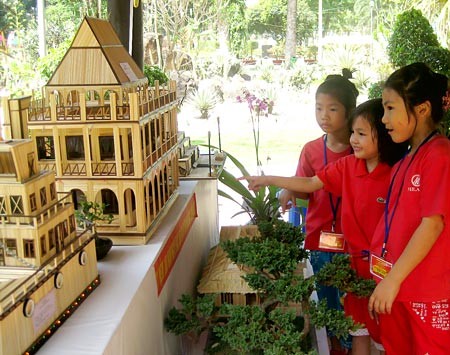 Children enjoy model of Ben Nha Rong made from toothpicks. (Photo:SGGP)
The stall display souvenirs made of M79 cartridges such as love rings, love heart necklaces and combs. However, children seem to enjoy models made of toothpicks of the One Pillar Pagoda, Ben Nha Rong (Nha Rong Wharf), warships and Uncle Ho's mausoleum.
This year's flower festival, with a rich assortment of blossoms is expected to attract thousands of visitors to Ho Chi Minh City. 
The 2011 Spring Flower Festival in the Tao Dan park kicked off on January 28, with celebrations marking the anniversary of the Communist Party of Vietnam (February 3) and the success of the 11th National Party Congress. The festival also marks the 100th anniversary of the day that President Ho Chi Minh left the country to find a revolutionary path for national salvation.
On display at the festival are over 6,000 objects, including uniquely crafted bonsai in the shape of various animals by over 700 artisans of Vietnam, Taiwan, the Republic of Korea, Japan and Thailand. The festival, also featuring a series of art performances and folk games, will run until February 8.