Painter Dr. Trang Phuong's sketches and paintings illustrating Vietnam's revolutionary resistance wars and subsequent building of the nation were on display for the first time at the Ho Chi Minh City Fine Arts Museum on July 3.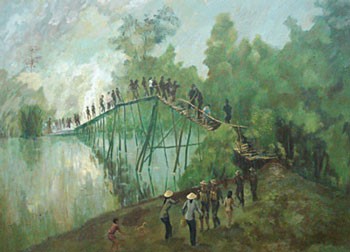 Painter Trang Phuong's "Liberation Army come back"
The 68 works were inspired by the war veteran's memories of the national resistance movement and revolutionary optimism.
Trang Phuong was born in 1939 in Binh Duong Province. He was in the first class to graduate the Binh Duong Practice Fine Art School before he entered the Sai Gon National Fine Arts College.
He left his family to join the revolution in 1961 and was a founding member of the Liberation Painting Room in 1962.
He graduated from Hanoi Fine Arts University in 1973 and traveled to Sofia, the capital of Bulgaria, to enroll in a Ph.D. program at Bulgaria's Academy of the Fine Arts in 1974. He received Ph.D in fine arts in 1979.
Several of his works are displayed at Vietnam Fine Arts Museum, the Bulgarian Fine Arts Museum and HCMC Fine Arts Museum.
At the ripe young age of 71, Phuong still has a passion for art and continues to paint at his workshop in District 3.
The exhibition titled "Vietnam-My Homeland" will run until July 16.