"Water and Life" and "For Clean Water Resources" are the grand prize winners of the Water and Sanitation Photo Contest 2015 co-organized by the World Bank in Vietnam and VNPhoto, an online forum for photography lovers.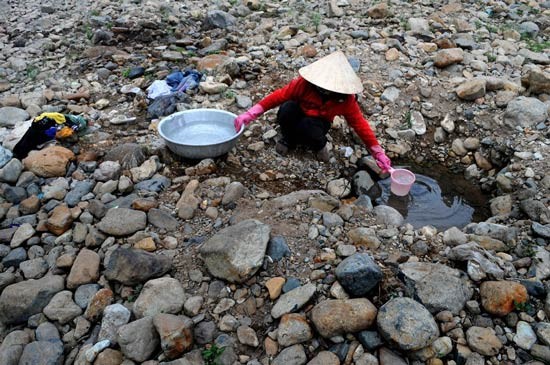 Water and Life photo depics a woman scooping clean, clear water out of a small well into a basin
The contest aims to raise awareness among rural and urban communities of using clean water, conserving water resources, good hygiene and sanitation practices, improving environmental sanitation and related issues.
Sixteen out of 256 submissions have been selected to receive awards in two categories: water and sanitation.
In the Water category, "Water and Life" depicts a woman scooping clean, clear water out of a small well into a basin.
"The photo shows the connection between clean water and life, while at the same time depicting the scarcity of water resources," said Vinh Quang Nguyen, Senior Water and Sanitation Specialist for the World Bank and a hobby photographer. "The strong colors, contrast, and composition of this photo attract viewers' eye to this compelling subject."
"For Clean Water Resources", winner in the sanitation category, taken in Hoai River in UNESCO-recognized Hoi An Ancient Town of the central province of Quang Nam was praised by judges for its meaningful story and excellent technique.
The photographer  captured a great moment of these two janitors fishing garbage out of the river urging people to think about environmental protection. The color, the angle and composition was so impressive.