An exhibition house featuring over 100 wax shapes of Vietnamese celebrities will be inaugurated by Viet Wax Figure Company at Hoa Binh Theater in Ho Chi Minh City's Dsitrict 10 on April 11.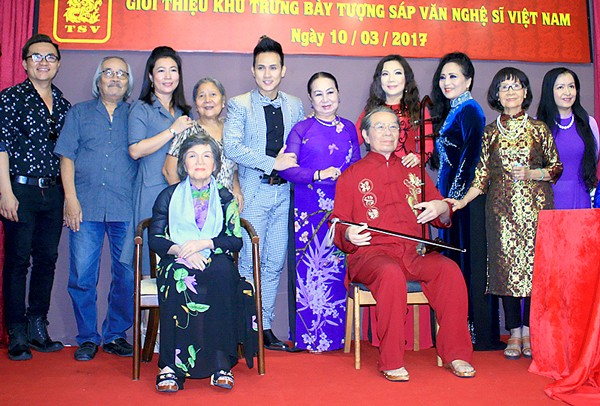 Artists and wax figures of Professor Tran Van Khe (R) and Meritorious Artist Ut Bach Lan (sitting)  (Photo: Sggp)
Exhibits are famous artists who have outstanding contribution to art and culture in decades, likely Professor Tran Van Khe, the grand old master of Vietnamese traditional music; People's Artists Bach Tuyet, Dinh Bang Phi, Kim Cuong, Hong Van; Meritorious Artists Tran Minh Ngoc, Ca Le Hong, Minh Vuong, Cong Ninh; 66-chord zither artist Hai Phuong, actor Quyen Linh, actress Tu Trinh and more.

The idea was initiated by artisans Nguyen Van Dong, Nguyen Thi Dien and Thai Ngoc Binh who have spent more than 16 years to research wax material and learnt portrait sculpting skills.

It takes a lot of time and effort to create a lively statue that reflects the true spirit of any character. About 90% of a finished statue looks like the real character, including the measurements of body, muscles and skin tone to the wrinkles on the face and body.

Artisan Nguyen Van Dong said that they have received great support of artists in completing waxworks. The artisans who have not spent any training courses hoped that the wax scupting industry will be developed in the country.

The 1,500 square meter museum will be set to increase the number of waxworks to 200 in the future with a total capital of VND35 billion. The company also plans to carry out a collection of wax figures of 54 ethnic minorities in Vietnam.