Thousands of guns made hundreds of years ago are on display at a private weapons museum in the southern coastal city of Vung Tau.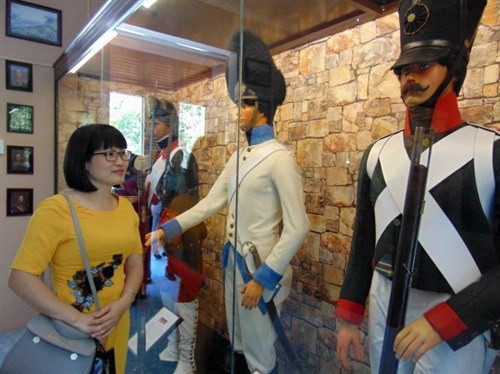 Visitors to the Weapons Museum in Vung Tau (Photo: VNA)
Located at 98 Tran Hung Dạo Street, the museum was opened by Robert Taylor, 70, of the UK more than four months ago.
The museum has three sections with 2,500 artefacts including guns, swords, crossbows and military uniforms.
Around 1,500 of the items are handguns and rifles made in England, Germany, France, the US, Italy and the Netherlands about 200-300 years ago.
Taylor has been collecting the weapons for more than 50 years. He has a special passion for handguns used by soldiers in war.
Taylor said when he was 18, he spent 80 USD to buy a 100-year-old sword for a present. Later, he became an engineer and worked in other countries, so he had opportunities to connect with people who shared his passion. He used most of his salary to buy his favorite items.
"To buy the old guns, Taylor had to travel to many countries and look for them. The older a gun is, the more expensive it is," a museum guide told online VnExpress.
In 1996, Taylor began preparing papers to ask for approval from local authorities to open his private museum. Four years later, he sold his assets in the UK and set up a museum after receiving approval from Vietnamese authorities.
The museum first opened in early 2012 but closed down three months later when Taylor and his Vietnamese wife divorced. The wife transferred the ownership of the property on which the museum was located to another person.
In early 2014, the provincial authorities of Ba Ria – Vung Tau allowed Taylor to use the ancient house at 98 Tran Hung Dao St. to display Taylor's collection of ancient weapons.
The museum has many exquisite weapons on display that were owned by the nobility or famous generals. In addition to guns, the museum also exhibits other types of weapons like crossbows and swords.
The museum also has hundreds of European uniforms from the 18th, 19th and 20th centuries.-VNA