The Vietnam Cheo (Traditional Opera) Theatre has just staged a play that the theatre bought the copyright from the first online play market
www.chokich.vn
.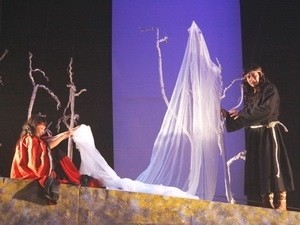 (Source: VNA)
The traditional opera, titled "Bac Le Den Thieng" (Holy Bac Le Temple), was written by playwright Trieu Trung Kien and co-directed by Vu Ngoc Minh and Le Tuan Cuong. The play features local residents from the northern province of Lang Son, home of the holy temple Bac Le, dedicated to the Mountain Goddess, who struggled hard during feudal times to preserve their beliefs and "hat van" (ritual folk singing) performed as a mediumship during rituals.
The play, which was performed on October 9 at Kim Ma Theatre in downtown Hanoi, drew an audience of hundreds who applauded with delight at the conclusion of each scene.
The traditional opera was staged based on the original play titled Ba Chua Thuong Ngan (Mountain Goddess) by Kien.
"This is the first play we bought officially from the website introducing new plays," said artist Thanh Ngoan, director of the theatre. "I hope many more plays will be staged this way."
The website www.chokich.vn, the first of its kind, is the brainchild of Kien, and the newly created site now features work by nearly 40 playwrights with over 30 new plays.
The website has also established itself as a market of ideas for playwrights and theatres to co-ordinate so that the plays written would be qualified as both literature and theatrical works.
The website has also featured criticism on classical plays for young writers to research.
"The most encouraging sign is that the website has not only gathered experienced writers, but also young ones, especially from the south," said Kien. "I believe art troupes can select the plays they want."