Since November 2011, classical music masterpieces have come closer to music lovers in weekend performances in front of the Music Publishing House office on Ly Thai To Street in Hanoi, every Saturday and Sunday.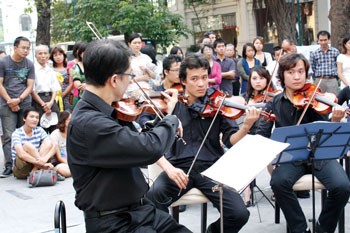 Outdoor classical music concerts are proving to be a great draw with music lovers.
The outdoor street concerts have attracted many people of different age groups and diverse backgrounds, from the aged to the young, from local residents to foreign tourists.
Musicians perform heedless of their surroundings, the sounds of vehicles or the weather conditions. Audiences are rapt in the environment and the concerts are slowly gaining a fervent following.
The music concerts are proving a great draw for manual workers, such as motorbike and cyclo drivers and street vendors. This is their only chance to hear great classical music, which is more commonly the reserve of the affluent in the great opulent theaters of the world. Their appreciative presence encourages artists to perform better.
Performing artists are not afraid of losing the aura that surrounds the opulence of chamber music in an outdoor concert. "It is wonderful when audiences have a passionate interest in classical music. The open atmosphere brings us closer to listeners and creates an inspiring atmosphere", said cellist Hoang The Phuc.
"I have never been so close to audiences like this before. I can see their smile, pleasure and curiosity when they look at music instruments", added violinist Do Cam Ly.
Earlier many insiders were against the project because they were afraid of unfavourable weather and of losing the quality of classical music.
However, the outdoor concert has left a deep impression on all people and lures a large number every weekend. They come early, so as to get a good seat to enjoy the concert.
The event is organised every weekend by LUALA concept store, promoters of luxury fashion and lifestyle products from the world's most prestigious brands, along with support from the Music Publishing House and the Vietnam National Orchestra.
The street concert will take place every Saturday from 3pm-5pm and on Sunday morning from 10am-12pm and Sunday evening from 3pm-5pm every weekend from November 11 to January 11, 2012.
The event will give audiences an opportunity to enjoy classical music performed by professionals.