Salt and life of salt workers are drawn carefully and truthfully at an exhibit, "Salt," in Quynh Gallery (District 1) by artist Nguyen Phuong Linh.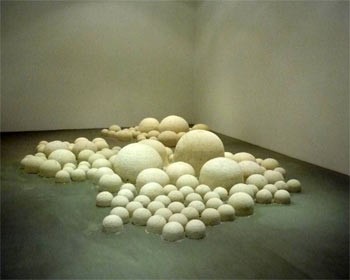 A sculpture made of salt on display at the exhibit by Nguyen Phuong Linh at Quynh Gallery (Photo: Courtesy by CDEF)
Linh is considered one of the country's best in arrangement art and has presented various forms of arrangement art at the gallery, including sculpture works made of salt and flowers made from 700 old clothes of salt workers, a collection of photos and the premier of a short documentary film directed by the artist.
This is the fruit of the research by the artist at various salt villages in Vietnam over a long period of time.
Asked about her favourite work among the display at the exhibit, Linh said the sculpture works made of salt.
"At first I only thought to make some sculpture works. Later, when I arranged some of them into a concept order, I felt something much more than that. A new inspiration or a new emotion, I think. You can find out some excitement from the very simple things of the salt village, a salt hillock, a small boat carrying white salt or a salt flower."
During the period of time the exhibit is open, the gallery will also host some lectures and conferences on the concepts presented.
Entrance is free and will remain open until September 5.
The exhibit is a collaboration between the female artist and the Danish Cultural Development and Exchange Fund (CDEF).