A commune in the central province of Quang Nam's celebrates a festival dedicated to Goddess Thu Bon on the 12th day of the second lunar month every year.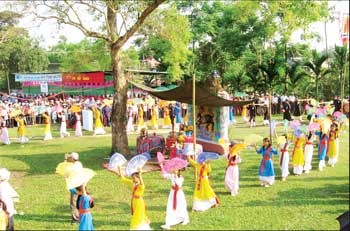 Lasses perform a folk dance in the festival
Organizers select young, beautiful, and talented women to carry the deity's palanquin while traditional cakes made by other village girls are offered to her.

The three-day Thu Bon Goddess Festival, which sees the villagers of Duy Tan in Duy Xuyen District living elsewhere invariably return home, also features traditional boat races, palanquin processions, traditional music, and folk games.

The festival opens with a water procession at 4 a.m. in which dozens of boats festooned with flowers bring holy water from the Thu Bon River to the goddess' temple.
Later at the temple, under the full moon, village elders narrate tales of the goddess' supernatural powers and thank her for her generosity to the village.

Duy Tan village is well-known in the region for the beauty of its women who are believed to inherit it from Thu Bon.
Beautiful river, land
Thu Bon River is located in Duyen Xuyen District, Quang Nam Province. It is one of the most picturesque waterways in Vietnam.
The river originates at an altitude of 2,598m in the Ngoc Linh Mountain and runs across the south-western mountains to meet the Tien and Tranh Rivers at Que Tan.
From here, it flows through Que Son, Dai Loc, Duy Xuyen, Dien Ban, Hoi An, and finally into the sea at Cua Dai.
At Hoi An, visitors can rent a boat and stop at the beautiful villages located along the river.