The final round of the Chuong Vang Vong Co cai luong contest organized by Ho Chi Minh City Television (HTV) will take place at the HTV theater on November 20.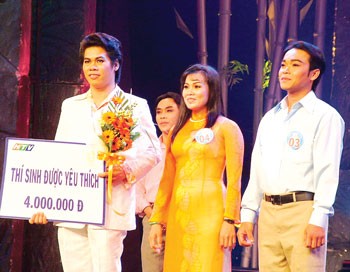 Contestants Vo Thanh Phe (L), Vo Thi Tri and Le Quoc Phong (R)
Vo Thanh Phe, Vo Thi Tri and Le Quoc Phong from the Mekong Delta provinces of Long An, Ben Tre and Bac Lieu triumphed over seven contestants to vie for the highest title Chuong Vang (Golden Bell) Vong Co.

Vong Co is a kind of traditional music of the South, often performed in a southern opera called cai luong.

The winner will receive a cash prize of VND30 million and good chances to become famous.

The contest that began on September 22 saw the jury whittle the 300 contestants down to just 10 for the final rounds which took place from the middle of October to November 13.

Besides discovering young talents, the annual competition also aims at keeping alive the tradition of cai luong and fostering a love for the folk opera among young people.