Winners of the "Miss Photo Viet Nam 2006" contest will be known this Thursday evening at the Phan Dinh Phung indoor stadium in Ho Chi Minh City.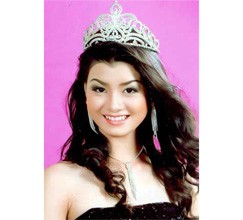 Bui Thi Diem, Miss Photo Viet Nam 2004.
The 27 finalists who outdid hundreds of other beauties will take part in the final this evening. The compulsory categories in the climax are Ao dai (Vietnamese traditional long dress), sports and casual wear. Jurors will whittle the 27 finalists down to 10 based on the contestant's conduct before deciding on this year's winner.

There will also be a music and fashion show featuring singers Quang Dung, Doan Trang, Ha Anh Tuan, Hien Thuc, alongside top models Anh Thu, Vu Thu Phuong, Kim Hong, Ngoc Quyen, Binh Minh modeling fashions by Sy Hoang, Viet Hung, Dolézza House and Thuan Viet.

Former winners of the contest will also be on hand including Bui Thi Diem, Thuy Quan, Thanh Hang and others.

Launched from the early months of the year, the contest received hundreds of photos of candidates. And the three beauties receiving highest votes from the public each month will qualify for the final round in December.
The "Miss Photo Viet Nam" contest is organized by Phu Nu Viet Nam (Vietnamese women) magazine. The event first took place in 2001 and became an annual event thereafter.