For the fifth year in a row, Windsor Plaza Hotel, in cooperation with the German Business Association (GBA), will give everyone a blast of traditional Germanic culture with the annual Oktoberfest.
German Ambassador Rolf Schulze performs the "O'zapft is", the traditional tapping of the first beer barrel that signals the opening of the festivity, at Oktoberfest 2008 in Windsor Plaza Hotel (Photo courtesy of Windsor Plaza Hotel)
This year's Oktoberfest, which will run for six days, begins October 6.

Visitors can enjoy live music, dancing, authentic German food and beer and a party through to October 11.

The GBA is coordinating the event. One of the GBA's missions is to build a relationship between Germany and Vietnam, and Oktoberfest is one of many cultural events GBA has organized to cement this relationship.

The hotel's Jade Ballroom will play host to Ho Chi Minh City's 18th Oktoberfest, and may be the country's biggest 'beer tent.'

Visitors can party the night away with all the draught Krombacher and bottled Schneider Weisse beers they can drink. A champagne bar with German Schnapps is also open to everyone.

Matching the drinks is a massive German buffet with plenty of sausages, sauerkraut, pork knuckle, pretzels, potato salad and lots more.

Oktoberfest will feature live music by the German band, "Trenkwalder," a modern, young, dynamic but especially authentic music band.

At this return, the band led by charismatic lead singer Hubert Trenkwalder will entertain guests with folk songs played in a rock style.

Other entertainment and activities include Bavarian Log Buster, the Draw Well, and a game for couples called the Stone Labyrinth.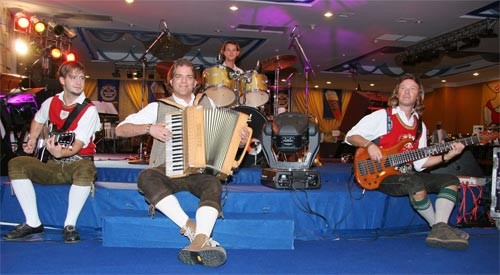 German band Trenkwalder play at last year's Oktoberfest (Photo courtesy of Windsor Plaza Hotel)
The Jade Ballroom also features an art design that will give visitors the feeling they are in Bavaria.

Finally, each visitor will get the chance to take the experience home with a souvenir beer stein and many prizes to be won.

Oktoberfest will run from 6:30pm until late on October 6 to 10 and from 10am to 4pm on October 11 (Sunday).

For more information, contact Windsor Plaza Hotel at 18 An Duong Vuong St., Dist. 5, HCMC. Tel: (08) 3 833 6688.