The Provincial Museum of Lam Dong on the central highlands has started to put on display different kinds of precious wood and rocks in an effort to show off its local natural beauties.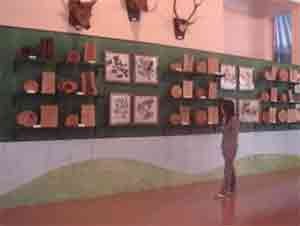 Wood, barks, logs and many more
Accordingly, samples of valuable leaves, branches and logs belonging to tree families including fokienia, dalbergia fusca, rhodoleia championii, xylia xylocarpa, podocarpus neriifolius D.Don and darydium pierrei hickel (red pine) are being displayed.
Sitting on shelves in the room reserved for rocks are different kinds of pebbles, soils and minerals taking form ages ago during the formation process of the earth's crust like Opal, Chalcedony, Quartz, Tourmaline, Agate, among others.
As an added feature to the two said collections, cotton-stuffed wild animals living in the southern forest on the Highlands including tigers, panthers, flying squirrels, foxes and bears are also accessible to public wonder.
Local scientists in forestry, biology and geological research have offered a helping hand to the museum in selecting wood and rocks for the exhibition.
The museum's deputy curator Doan Thi Bich Ngo is not contented, however and said she plans to collect and exhibit other typical natural resources endemic to the Highlands.