The first 1,500 sq.m. of a giant ceramic mural along Hanoi's dike filled with traditional patterns and Hanoi landscapes to celebrate the city's 1,000th anniversary is complete.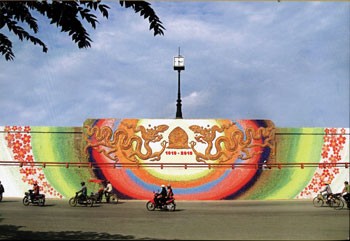 A part of the ceramic road along the Red River.
"Ceramic road along the Red River," a project to decorate 6,000m of the dyke along the Red River by journalist Nguyen Thu Thuy, which began at the end of 2007, will feature patterns popular during the Dong Son, Ly Dynasty, Tran Dynasty, Le Dynasty and Nguyen Dynasty eras.
It will also incorporate decorative modern art, traditional architectures of Vietnam's 54 ethnic groups, paintings of Hanoi and by children, and ceramic paintings by local and international artists.
Some Ha Noi icons to find a place on it include Mot Cot (One pillar) pagoda, The Huc Bridge, Khue Van Cac Pavilion in the Hanoi Temple of Literature.
The project has inspired international artists like Joel Bennett of the US, Michael Geertsen of Denmark, and Dominique de Miscault of France to take part.
"It's wonderful! The project not only opens a new way for social and cultural development and honor fine arts in the community, but also attract many artists because of its beautiful patterns and ideal of paying tribute to Vietnam's art heritage" Mr.Bennett said.
Many countries' embassies and foreign cultural centers in Hanoi are supporting the project.
A 50 sq.m. ceramic picture of Vincent Van Gogh's "Starry Night" will be presented by the Dutch embassy.
Architects and painters of the Mosaic Massa Carrara Company in Toscany, Italy, will travel to Hanoi in November.
Many artists from the UK, Spain, and Finland will help finish the giant mural.
 
The work will make it into the Guinness Book of World Records for the world's longest ceramic picture by 2010, Ms.Thuy hopes.