Nelson Mandela, South Africa's first black president, turns 91 on Saturday with a call for community service and celebrations from New York's Madison Square Garden to downtown Johannesburg.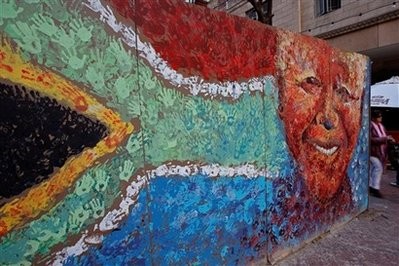 A mural seen of the South African flag and former South African president Nelson Mandela's face, made by hand imprints in the city of Cape Town, South Africa, Friday, July 17, 2009.
The increasingly frail former statesman who is affectionately called Madiba, his clan name, has been inundated by messages of goodwill, from multinational companies to ordinary South Africans.
But the Nobel peace laureate will spend the day at home with his family and close friends.
This year's birthday marks the inaugural Mandela Day, initiated by his charitable foundation in honour of the much-loved icon who became president in 1994.
People around the world are being urged to dedicate 67 minutes of their day to volunteer for community service.
The number reflects the number of years since Mandela dedicated his life to the struggle for equality in South Africa, as he joined the ruling African National Congress in 1942.
Oprah Winfrey, a long-time Mandela friend, is among the big names who have pledged their support for the day.
President Jacob Zuma praised Mandela as a beacon of hope, saying it has taken too long for the country to celebrate "this gold that is Nelson Mandela".
"If there is a story to be told of an icon that inspires the world, characterised by the humility, warm humanity and a will for prosperity, then Madiba's 91-year life story offers a story of life worth living," said Zuma.
"Madiba taught us that we couldn't live in peace in South Africa while the rest of Africa suffered the scourge of conflict and war," added Zuma.
Mandela stepped down as president in 1999, after serving one term in office. He is still revered around the world for his promotion of peace, non-racialism and the fight against HIV.
"Dear Madiba, thank you for getting out of jail or you would never have been president. Very very happy birthday," wrote an eight-year-old pupil from a girls' school in Johannesburg, printed in one of the many special newspaper supplements dedicated to his birthday.
Last year, Mandela held a lavish dinner at his rural homestead in Qunu, in the Eastern Cape province, where he invited guests ranging from former heads of state, royalty and diplomats to ordinary villagers.
On Saturday, the main celebration is in New York, with a star-studded concert at Madison Square Garden.
The line up includes the legendary American soul supremo Aretha Franklin, Stevie Wonder, and the West African musician Baaba Maal.
In South Africa, celebrations will take place across the country under the theme of devoting time to help the less fortunate. Local pop stars will also hold a concert in downtown Johannesburg.
According to his foundation, South Africa's ambassador to the UN is lobbying for the official recognition of Mandela Day by the world body.