World-renowned Vietnamese pianist Dang Thai Son retuned home to perform at the Ha Noi Opera House on November 26 and 27 to celebrate the golden jubilee of the Ha Noi Conservatory of Music (1956-2006), where he took the first lessons in his brilliant music career.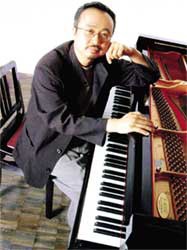 Pianist Dang Thai Son
The talented pianist usually returns Ha Noi in the autumn with the early northeastern slightly cold wind.
"I always feel the difference when I perform in my country, because audiences are mostly my close friends. They come to listen to my performance, and show their great expectations of me. For this reason, I have to do my best in the performance. I think that I perform better in my country than in any international concert-hall," Son said.
In this returning trip, Dang Thai Son will have the opportunity to meet and perform together with many of his old teachers and friends.
The audience will enjoy the beginning of the opera "Wilhelm Tell", by Italian well-known composer G.Rossini (1792-1868), who played an important role in the golden age of the Italian opera in the 19th century. His last opera, composed in 1830, was considered a pinnacle of Rossini's genre of romantic epic opera.
Coming next are Russian great composer P.I.Tchaikovski's symphony No.4 and the Concerto No.27 for Piano of Austrian famous composer Mozart.
Under the baton of Sweden's Mats Liljefors, the concerts are expected to bring unforgettable impression to audiences.

Related article:
Top Pianist to Perform in Ha Noi