For the first time, internationally renowned Korean-American violinist Sarah Chang will travel to Vietnam for the 14th Hennessy Concert at the Hanoi Opera House on January 22.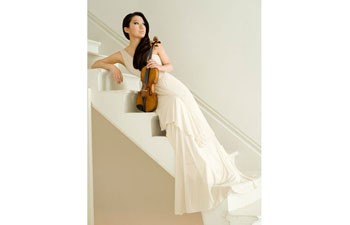 Violinist Sarah Chang
The famed musician will perform classical works by composers including Johann Brahms, César Franck and Christopher Theofanidis, together with American pianist Andrew von Oeyen.
Born in 1980 in Philadelphia, Pennsylvania, Chang began studying violin at the age of 4 and auditioned for the prestigious Juilliard School at age 6.
She was admitted to the studio of the late Dorothy DeLay, violin teacher to some of the world's great violinists including Itzhak Perlman, Midori Goto, Anne Akiko Meyers, Gil Shaham, Shlomo Mintz and many others.
Chang recorded her first album, Debut, in 1991 at age 10. It was released by EMI Classics on August 18, 1992 and quickly climbed the Billboard chart of classical best-sellers.
She has also collaborated with several major orchestras including the New York Philharmonic, the Philadelphia Orchestra and more.
Chang was honored as a Young Global Leader for 2008 by the World Economic Forum (WEF) and was named one of the Twenty Top Women by Newsweek Magazine in 2006.
The accomplished violinist has received many music awards including Gramophone Magazine's "Young Artist of the Year" award; Germany's "Echo" and "Newcomer of the Year" awards in 1993; South Korea's "Nan Pa" award in 1991; "Newcomer of the Year" at the International Classical Music Awards in 1994; the Avery Fisher Prize in 1999; the Internazionale Accademia Musicale Chigiana Award in Siena, Italy in 2004; and was the youngest ever to win the "Hollywood Bowl's Hall of Fame" award in 2004.
The concert is co-organized by Moet-Hennessy Asia and the Vietnamese Ministry of Culture, Sports and Tourism.