Famous Vietnamese Writer Nguyen Huy Thiep was awarded the literature and art medal by the French government yesterday for his contributions to spreading Vietnamese literature in the Francophone community.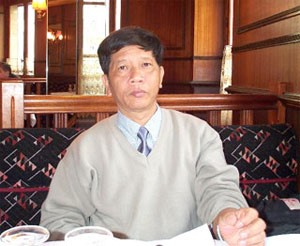 Writer Nguyen Huy Thiep
The novelist, playwright and literary critic, born in Ha Noi in 1950, is regarded as a master of the short story with the outstanding work Tuong ve huu (The Retired General) and has achieved great success in this field.
He is the Vietnamese writer with the largest number of works translated into foreign languages including French, English, Italian, Danish, Dutch, German, Korean, Japanese, and Indonesian for publishing abroad.
The literature and art medal, first awarded in 1957, is given to people who have made great contributions to literature and art and the propagation thereof.
The French honorary title was conferred on late director Le Manh Thich, choreographer Nguyen Cong Nhac and fashion designer Minh Hanh last year.