Vietnam Writers Association held an inaugural ceremony at Alley no 35 on 424 Tran Khat Chan Street in Hanoi on January 5 to open the "Kim Lan Memorial House" for the public.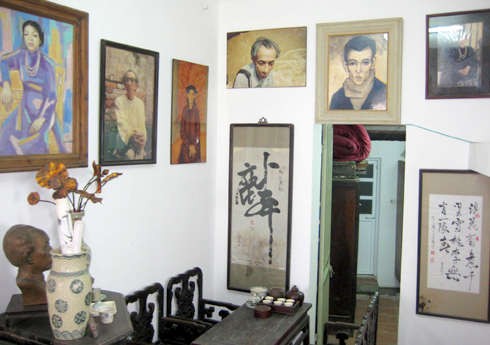 Kim Lan Memorial House
The house was built by painter Nguyen Thi Hien, the eldest daughter of Kim Lan and his brother. The 4 storey house is located on a 60m plot and is full of images of Kim Lan, with autographs, works, manuscripts, letters... which have been collected from various sources.
The displays in the house exhibit manuscripts, pictures of prominent writers and painters, such as Bui Xuan Phai, Van Cao, Phan Ke An….
On this occasion, book collector Hoang Minh from the Nguyen Huy Tuong book lovers Club in HCMC presented Kim Lan's family some copies of the magazine Trung Bac Chu Nhat ( published in 1942) in which there are two short stories of Kim Lan "Co Via"  and "Old Actor" ( Nguoi Kep gia ).
At the ceremony, Kim Dong Publishing House presented Kim Lan's family a book titled "Kim Lan-Anchor of literature village" from a compilation from the book set "My writer".
This book was launched on the occasion of Kim Lan's 4th death anniversary. This book contains the life and times of writer Kim Lan, and helps to supplement literature knowledge in schools, foster love for literature in general and Kim Lan's literature in particular.
Vietnamese writer Kim Lan, real name Nguyen Van Tai, is best known for his short stories on country life in northern Vietnam.
He was born in 1920 to a farming family in Tu Son District of Bac Ninh Province. After primary school, he became a lacquer painter.
He is author of realistic literature. He launched his writing career when he published his first novel Dua Con Nguoi Vo Le (Son of a Concubine) in 1941 in Hanoi.
Later, he wrote a series of short stories, mostly related to his personal recollections of country life.
Lan received much public acclaim for works such as Lang (Village) in 1949, Nen Vo Nen Chong (Becoming Husband and Wife) in 1955 and Con Cho Xau xi (The Freakish Dog) in 1960.
In these novels he portrayed peasants' experiences of colonization. In doing so, Lan vividly narrates Vietnam's rural traditions and villagers' complicated attitudes regarding social and family relationships.
Lan was also known for his performance in the film Lang Vu Dai Ngay Ay (Vu Dai Village) based on the work of Vietnamese realist author Nam Cao. In the film, Lan played the role of Lao Hac, a peasant struggling during Vietnam's feudal and colonial period from 1930-1945. He also acted in the film 'Vo Chong A Phu' (Couple of A Phu) based on the short story of the same name by writer To Hoai.
He was presented the State Prize in 2001 for his contribution to the nation's literature.
He died in Hanoi at the age of 87.
(Source VNA)