A writing competition about exemplary people, organized by Sai Gon Giai Phong and Vietnam Literature Association, invited writers to a meeting at SGGP's head office on May 14.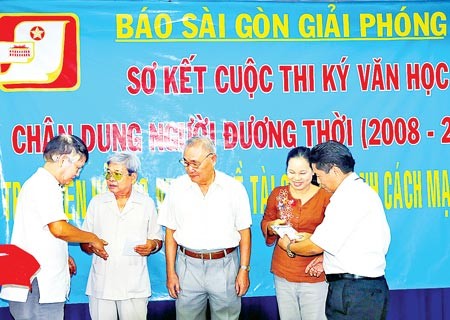 Editor in chief of SGGP Tran The Tuyen (R) and writer Le Van Thao (L) offer presents to authors who write about war and revolution topic. (Photo: SGGP)
The competition has been running since May 30, 2008 and closes 30 July, 2009.
Speaking at the meeting, Tran Van Tuan, deputy editor- in- chief of SGGP newspaper, said the aim was is to discover and honor exemplary people. It was held in response to the national "Study and Follow to Ho Chi Minh's example" campaign.
Despite negative reports in the local media, the articles brought readers confidence and a balance between good and bad aspects of life, Mr. Tuan said.
The contest attracted professionals and amateurs, with more then 130 articles received so far. SGGP will publish a collection of the best 50 every Sunday.
Le Van Duy, a film director said he really liked reading stories about exemplary people and their good work. The contest helped collect moving stories about good examples and efforts in life.
Those attending the meeting agreed that the competition is not just a competition, but also a program aimed to honor those who live exemplary lives.
Improving the competition
At the meeting, some writers offered opinions as how enhance the competition's quality and attract more people.
Mr. Duy said the organization committee should introduce writers to the people they want to write about.
Others pointed out limitations, such as the articles that lacked literary merit and depth.
Closing the meeting, Mr. Tuan, also chairman of competition committee, said the competition collected many good examples, as well as showing a positive side of life.
The competition also generated interest and received support from readers and writers nationwide, he added.
Mr. Tuan concluded that some stories were fictional and difficult to verify, and advertising the competition had not been as good as it should have been.
Tran The Tuyen, SGGP's editor-in-chief, said during the remaining period of the competition, the organization committee will pay attention to enhancing quality of articles, providing writers the opportunity to meet their muses and report feedback from readers.