Yoko Ono, John Lennon's widow, will take part in the international art exhibition named "Liberation" in four museums in Ho Chi Minh City on November 26.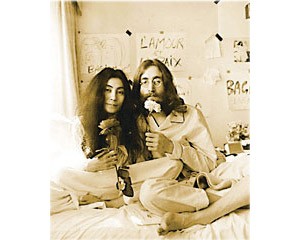 Yoko Ono and John Lenon
Of Yoko Ono's four works shown in War Remnant Museums at 28 Vo Van Tan Street, District 3, two were made by her and John Lennon.

They are Bed In and War is Over communicating the message of protests against the US war in Viet Nam.

Bed In or Peace Bed, a camera film, was maded in their honey moon in Amsterdam in 1969.
It goes along with an well-known antiwar song "Give Peace a Chance composed by John. The film will be shown on the wall.

Her two new works, Onochord and Imagine Peace, are also dispalyed this time.

In general, the four works demonstrate the style of conceptual art; the viewers will sing Ono's chord together or stamp peace marks on some places on a big map where they think about peace.

The exhibition will be held in Arts Ton Duc Thang, War Remnants and Southern Women museums with the participation of more than 60 leading artists from Viet Nam, the US, France, German, Denmark, Japan, China, Thailand, Laos, Cambodia, Myanmar, Indonesia and Malaysia.