Childhood flashbacks and an obsession about the war, especially the damages it caused to many generations of Vietnamese, will be the theme of young artist Pham Van Truong's installation work titled "Bomb" that will open in Hanoi on July 22.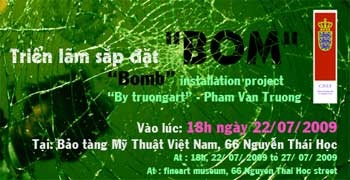 A poster for the installation show "Bomb" that opens on July 22 at the Vietnam Fine Art Museum in Hanoi (Photo: Courtesy of Danish Embassy)
A 100-square-meter section will be filled with glass pieces stuck on a plastic cover. A viewer looking at the work will feel like standing at the edge of a bomb crater and see their images shattered into pieces. 
The artist says: "everybody is an unexploded bomb full of energy. But, somehow, due to some unexpected reasons, they forget that energy or not dare to explode or release that energy. Everyone must dream and dare to follow that dream."  
He uses red paint and loud sounds to add to the show's effect. 
The exhibit will remain open at the Vietnam Fine Art Museum, 66 Nguyen Thai Hoc, until July 27 and entrance will be free. 
Truong's work is sponsored by the Danish Cultural Development and Exchange Fund.  
He was born in Quang Ninh Province and graduated from Hanoi University of Industrial Fine Arts. He's the founder of the website/forum
www.mythuatvietnam.info
 and the Blackart Group.  
He won CDEF's talent prize for performing arts presented last year.  
He is also working on another project titled "Nhung dau hoi" (Question marks) sponsored by the Goethe Institute Vietnam. His official website is
www.truongart.multiply.com