The annual HTV Awards 2015 honoring popular artists who have contributed the most to the development of the channel during the year in the categories of stage, cinema and music was held at the Ho Chi Minh City Television Theater on April 4.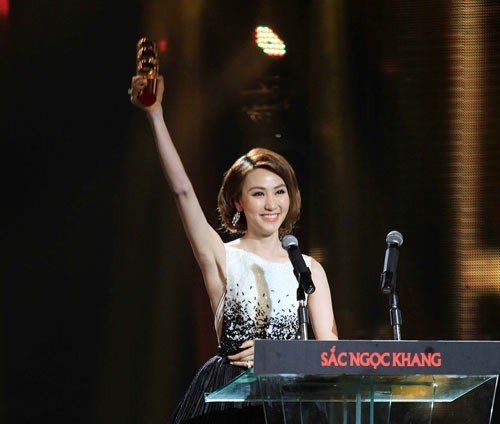 Ngan Khanh Singer at HTV Awards 2015
After a three-month voting process, HTV awards 2015 were given out to the city's favorite singers and actors.
In the TV category, actress Ngan Khanh and actor Luong The Thanh won the Favorite Actress and Actor honors respectively.
In the theater category, the Best Dramatic Actress title went to veteran Le Phuong. Truong Giang won the "Best comedian" award and Phuong Loan was named the most favorite cai luong (southern folk opera) artist.
In the music category, Noo Phuoc Thinh got the title of "Favorite Male Singer" while the most favorite female singer belonged to singer Dong Nhi; Vu Cat Tuong bagged "the Most favorite musician".
Tran Thanh and Quynh Huong were voted as the Best MC "Master of ceremonies" award. "The Most favorite model" went to Thanh Hang.
The organizer, Ho Chi Minh Television, also presented "The Devotion award" to Meritorious Artists Ta Minh Tam and My Uyen, singer Duc Tuan, and actor Huynh Dong. Singer Phuong Vy won "The Friendly award" and actor Doan Thanh Tai took the "The Promising Artist" title.