A generation of young heartily overseas Vietnamese singers living around the world are step by step proving their ability to find opportunities in Vietnamese and international music market.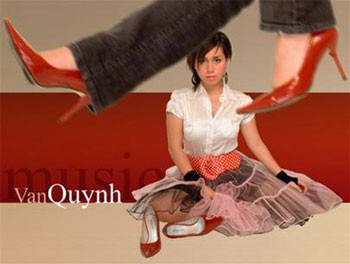 Van Quynh's CD
Singer Tran Thu Ha who left her position as a diva in Viet Nam for accompanying her husband to the U.S. to live has created a stable place with a handful of overseas Vietnamese audiences who are very fond of her music style.
Many young overseas Vietnamese singers who have a passion for music, a great knowledge and sense of this kind of art are on the way to seek their own fans. Although it might have not taken them to the peak yet, but we can realize a strong vitality radiated from them and are entirely persuaded by their simple and broad-minded way to approach audiences.
They have learned performing style and choosing song styles professionally from foreign singers. Their records abound on the internet.
Overseas Vietnamese singer Van Quynh, 23, will release her album including Vietnamese and English songs in Vietnamese market. Quynh who has a best voice moved to the U.S at the age of 15 after representing Viet Nam to take part in the Voice of Asia 2000 " singing contest in Kazakhstan.
Another CD of Tran Thai Hoa consisted of songs composed by musicians like Duong Thu, Quoc Bao, Nguyen Xinh Xo and Xuan Phuong has just been launched. Hoa is a senior medicine student and living in Canada.

"I am not interested in any music styles, but breaks and new experiments in music. I like the opened thinking" said the doctor-to-be.
Meanwhile Vietnamese – French model Nathan Lee is carrying out a music project together with Viet Nam's talented musician Quoc Trung. The model owned a warm voice and good look composes more than 100 songs in Vietnamese, French and English. He is expected to become a music star in coming time.
The young overseas Vietnamese singers want to win the Vietnamese music lovers' hearts. They also have a sense of their position in both of Vietnamese and international music market clearly. They fairly take part in the playing field in the country, not depend on their glory on the stages abroad.