The snug little house of Prof. Tran Van Khe, the greatest masters of traditional Vietnamese music, warmly greeted around 70 friend and young people who came to take part in an intimate musical performance presenting Vietnamese drums and southern ritual music held on Tuesday with the assistance of the Ritual Orchestra of the Go Vap District in HCMC and the Phu Dong percussion band.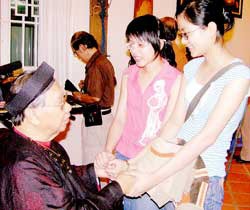 Prof. Tran Van Khe (L) is so pleased that folk music has attracted young people.
"It is the first time that I enjoyed a performance of folk music, and the show really enchanted me. Anyhow, I don't know where the folk music originated from? And what did we do to maintain it?" Quach Huu Thang, a student of Ho Chi Minh City University of Social Sciences and Humanity, wondered.
The origin of Vietnamese folk music sprung from ditties and verses sung while working, barcarolles, and lullabies. It is still kept and imparted through the generations, Prof. Khe explained.
"The young people are now wrapped up in modern music including pop, rock, rap, hip-hop, and so on. They mostly have not gotten any chance to approach folk music. I hope that the organizers will do more shows to give young people the opportunity to learn about the precious treasure of folk music." A student of HCMC University of Architecture said.
Mr. Khe was so touched and pleased with the many praises and valuable ideas to contribute to preserving folk music from audiences. "I will do my best to wake the young people's passion for folk music as long as I have breath in my body." He said.
There will be a repeat performance held at the Palace of Labor Culture in HCMC on May 6.
The next show presenting Vietnamese musical instrument of dan tranh (16-chord zither) with attendance of artists Hai Phuong and Thanh Thuy will take place at Prof. Khe's private home at 32 Huynh Dinh Hai Street in the Binh Thanh District of HCMC at the end of June.