The 'Asia Youth Orchestra' will perform at the Hanoi Opera House on August 15 and 18 under the baton of conductor James Judd Richard Pontzious.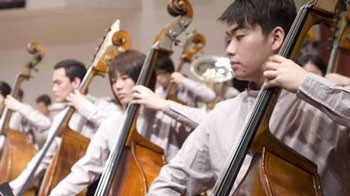 The 'Asia Youth Orchestra'
The orchestra will present classical masterpieces, including Carmen Fantasy by Sarasate, Symphony No. 4 by Tchaikovsky, Carnival Overture and Symphony No. 2 by Rachmaninoff.
American violinist Stefan Jackiw, recognized as one of his generation's most significant artists, will captivate audiences with his impeccable technique. He has previously performed with symphony orchestras of Boston, Chicago, Philadelphia, Toronto, Pittsburg, Cleveland, Baltimore, San Francisco, Minnesota and New York Philharmonic and also toured with the Asian Youth Orchestra in 2006 and the London Philharmonic in 2010.
The 'Asia Youth Orchestra' comprises of 100 musicians aged 17 to 28 chosen by auditions held annually from amongst the best music students in Mainland China, Hong Kong, Japan, Korea, Malaysia, Philippines, Singapore, Taiwan, Thailand and Vietnam.
They are together for six weeks each summer, initially for a three-week Summer Festival (Rehearsal Camp), and then on to performances on tours for three weeks with major international solo artists and conductors.
This year the Vietnamese members are cellist Nguyen Thanh Tu and obist Nguyen Hoang Tu.
The 2011 tour begins on August 5 through August 29. At the time of this announcement, the 2011 tour will include performances in Hong Kong, Beijing, Tianjin, Kuala Lumpur, Singapore, Hanoi, Bangkok, Taipei and Tokyo.
Since its inaugural concert in 1990, the 'Asian Youth Orchestra' has performed 291 concerts in Asia, Europe, USA and Australia to an audience of more than one million. Millions more around the world have seen and heard the orchestra on CNN, CNBC Asia, NHK Television, Radio and Television Hong Kong and Star TV.