The organization board of the 2016 "Prudential-Good Essay, Good Writing" contest, 144 excellent secondary students were selected from nearly 1,800 students of 284 schools in 24 districts for the city-level round which will take place on October 29 in Junior High School Le Quy Don in District 3.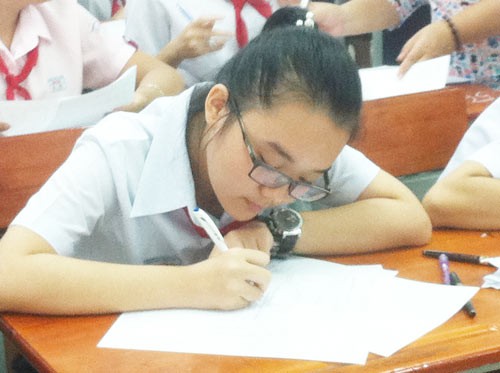 Students sit for the contest (Photo: SGGP)
Two districts 12 and Go Vap October 12 finished the district-level round of the contest. 69 students from 12 schools in District 12 participated in the round. Ms. Le Ngoc Le from the Education Division in district 12 said that these students completed for the school-level round from September 26 to October 6. Each school has selected 6 outstanding students having the highest scores for the district-level round.

At the same time, 96 candidates of 17 secondary schools in District Go Vap took part in the contest.
Like previous years, candidates who won the first, second and third of the city-level round will receive bonus marks in the 10th grade entrance exam.

Meantime, Mekong delta provinces' education departments finished the district-level round of the contest and candidates are preparing to enter the province-level round. Winners will participate in the region's final round which takes place on November 26 in Long An Province's Tan An District.

The contest is co-organized by the Prudential Life insurance company in Vietnam and Sai Gon Giai Phong newspaper with support from the education and training departments of HCM City, and the Mekong delta provinces.