Around 1, 704 pupils from 284 secondary schools in 24 city's districts participated in district- level round of the 2015 Prudential-good essay, good writing contest, reported the organization board on October 5.
As result, 144 winning students were selected from 1, 704 contestants who will take part in the city- level contest at Minh Duc Secondary School in district 1 on October 17.
It is worth noting that the first, second and third winning students in this year's city- level contest will be added marks in entrance examinations for high schools; particularly, giving two marks for the first winner, 1, 5 marks for second winners, and 1 marks for third winner respectively.
Until now, Mekong Delta region has also completed district level contest. The organizers will select outstanding students with the highest scores to sit in final regional examination in Ben Tre province on November 28.
The annual Prudential-Good Essay, Good Writing Contest is held by Saigon Giai Phong Newspaper and Prudential Life Insurance Company in Vietnam for secondary school pupils, aiming to encourage study of literature, develop good handwriting, reading and good essay writing skills among students.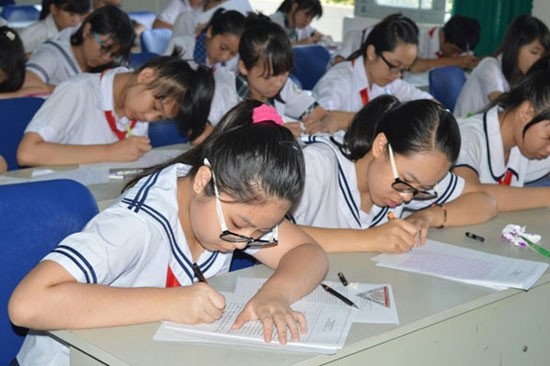 Students sit in district- level round of the 2015 Prudential-good essay, good writing contest, (Photo: SGGP)