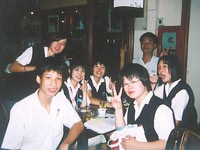 Ha Duy Loc (left, in white) with the Japanese students.
Every week, Ha Duy Loc, a Chinese language class's student at Le Hong Phong High School, takes part in the English club on Thursday morning and Chinese on Sunday morning. He spends most of his time studying foreign language books. Loc attends every meeting with foreign delegations to his school.
Loc spends all his Tet money gifts and savings on foreign language books. His friends never catch him at home if they do not have an appointment.
"We are afraid that spending too much time studying foreign languages will have bad influence on his study of other subjects in school. We simply can't stop him," Mrs. Le Thi Phung, Loc's mother says, "Loc practices foreign languages every time, every where. He is also the chief of Language Research Group".
Confidence, enthusiastism and patience
"I love to study foreign languages" says Loc. When a nine-grader, Loc was very interested in the Chinese script self-teaching book, a gift from his mother. After that, Loc passed into the Chinese language class of the Le Hong Phong High School for gifted students. Besides of English and Chinese, Loc studied Russian, Arabian, Japanese, Germany, Thai, Korean, Spanish, Italian, Polish and Indonesian with a Various Languages Studying CD.
Loc has two notebooks, one for vocabulary and another for grammar study. In the vocabulary notebook, he divides every page into fourteen columns, representing fourteen languages with Vietnamese at the last column. Therefore, he does know the meaning of a certain word in fourteen languages. This hand-made dictionary of fourteen languages with over 3,000 words is an achievement of an endless patience.
Loc trains his listening and speaking skills with CDs, and learns grammar from university students. The key for mastering foreign languages, for him, can be expressed with these words: confidence, enthusiastism and patience. Every night, Loc spares one hour for studying foreign languages, from 9 PM to 10 PM, and the rest time for for other subjects. "Sometimes he has to stay up until 1 – 2 A.M. His hair already turned white when he's just a boy," his mother complains.
His father is a guard of the Le Hong Phong High School. Five years ago, Loc's family was homeless. Fortunately, the board of the Le Hong Phong High School lends them a room. In that small room now, a language talent is dreaming about being a linguist in the near future.