Twenty three disabled students received certificates last week upon graduating from a graphic technician training course organized by the High Tech Vocational Training Center of the Ho Chi Minh City-based Van Lang University with funding from American NGO Catholic Relief Services.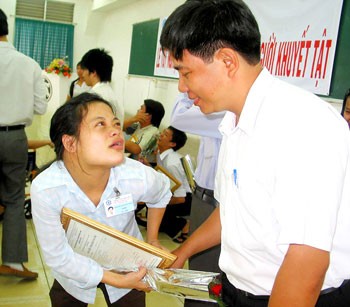 Nguyen Kim Thanh (L), an Agent Orange victim, is among those who passed out of a graphic technician training program for disabled people organized by HCMC's Van Lang University with funding from American NGO Catholic Relief Services
It was the first such course they organized.
Luong Thi Thuy,19, of Quang Ngai Province, who has muscle atrophy in her legs, said: "Earlier I had no knowledge of computing. Thanks to the center's conscientious teachers, I got good results. I wish I will get a job soon."
Doan Thi Hoi, 23, from the northern province of Thanh Hoa, who has disability in the legs and back, said: "I really thank the sponsors and teachers who gave me a chance to study. I am now confident of getting a job."
Tran Viet Dung, director of the High Tech Vocational Training Center, said though programming and graphic design are difficult subjects, all of them passed the exams with high marks. "I respectfully admire their efforts," he said.
Some students were recruited by IT firms even when they were studying -- like Phuong Que Chi, who was hired by GHP Design Company based in HCMC's Quang Trung Software City at a monthly salary of VND2 million.
In related news, a 12-month training course in IT management and software for 50 disabled students began recently.
A three-month IT training course for 33 people with hearing and visual impairments has begun at the Hanoi College of Informatics and Communications with assistance from the United States Agency for International Development.
"We hope the program will be an example for similar initiatives for a larger number of disabled people" said Francis A. Donovan of USAID.

Related article:
Students with disabilities start US-funded technical training