The 27th International Biology Olympiad (IBO) kicked off in Hanoi on July 17, drawing 264 students and 238 teachers from 71 nations and territories.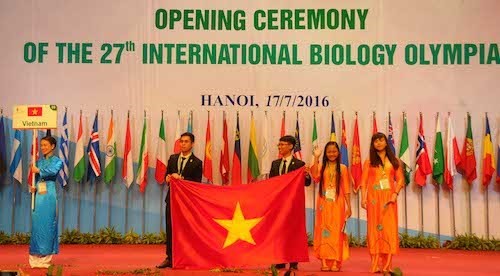 Vietnamese delegation at 27th International Biology Olympiad (Source: vnexpress.net)
Speaking at the opening ceremony, Minister of Education and Training Phung Xuan Nha said that Vietnam has successfully hosted many international Olympiads, which reflects the recognition and confidence of the international community in the development of the country's education sector.
The event is a chance for participants to intensify cooperation, share experience, and boost the study and research of biology.
According to Poonpipope Kasemsap, President of the International Biology Olympiad, this year's questions will be related to the host country's biological diversity.
Together with theoretical and practical exams, students and teachers of the IBO 2016 will have chances to visit and learn about Vietnam's cultural and tourist attraction sites during the week-long event.
The IBO was first organised in 1990. Vietnam has participated in the IBO since 1996. After 20 years of engagement, Vietnamese students brought home 56 medals, including one gold, 10 silvers, 45 bronzes and two certificates of merit.
Vietnam has four students participating in the IBO 2016.