The Ho Chi Minh City Department of Education and Training, the competition organizer, has announced 37 project winners of the science-tech competition for senior high school students in the city.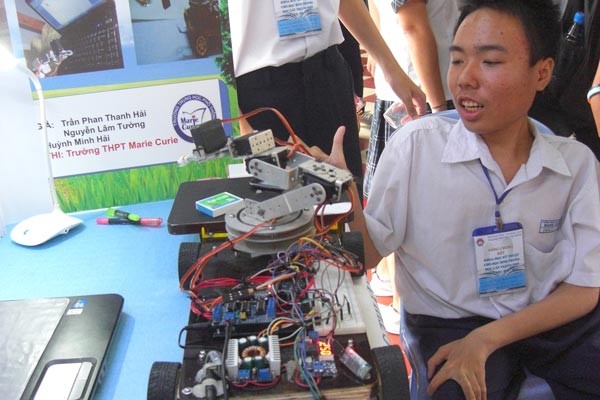 Student winners with their product to help disabled people (Photo: SGGP)
The event took place in Le Hong Phong High School for gifted students in January 14. Of over 600 entries of 1,000 candidates sent to the organizer, 37 good projects were selected for the final round.
11 projects were run by students of Gia Dinh School and five of students of Le Hong Phong School.

According to the Department, more high quality projects were sent to the organizer this year and most of them are practical especially in automatics, IT. For instance firefighting robots, black box for people- a device for rescue, survey of students' behavior in love and planning and setting up new tourism network in HCMC are useful in reality.

Authors of firefighting robot - Vo Bao Huy and Trinh Thanh Tam from Hoa Binh School said that because the city has lately had many fire causing losses of human and property, they designed the product for more effective firefighting, especially the product will help reducing risk for those partake in putting out the flames.

Tenth graders Tran Phan Thanh Hai and Nguyen Lam Tuong from Marie Curie school said that their product to support disabled people is designed to help parents have more time for cooking and help ease disabled people's burden in daily activities and labor.

The competition is a play yard for students inspiring their passion for schience and technology to create useful products for the society.

First prize winners will participate in the national competition later.