A 70 year old man who is the oldest candidate for the high school graduation examination in the academic year 2014-2015 passed the examination.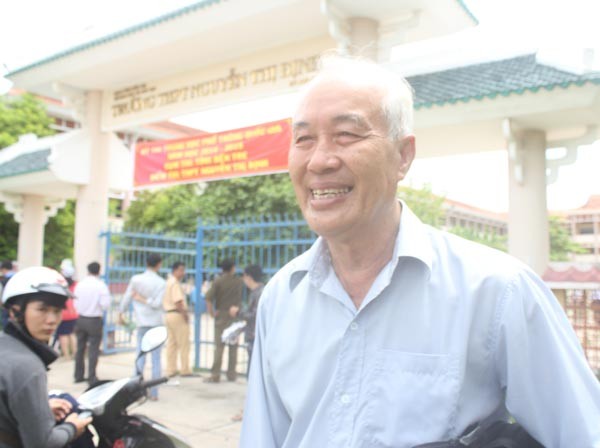 70 year old Ho Ngoc Canh passes the high school graduation examination (Photo: SGGP)
70 year old Ho Ngoc Canh in Giong Trom District of the Mekong delta province of Ben Tre was announced to pass this year examination on July 26. His marks for the examination are 1.75 for Mathematic; 3 for Literature; 4 for Chemistry; 3,25 for Geography and his total marks are 12 plus preferential marks of 0.25 as an oldest candidate.
 
Head of the Department of Continuous Learning Education in Ben Tre Province Tran Thi Nho said that Mr. Canh failed the graduation examination in 2013 and 2014 while his grandchildren passed.

However, he showed his determination to continue learning and sat for the third examination and his efforts was rewarded.
 
 His learning spirit is commendable, she added.
 
Ho Thanh Phuong, head of the residential block in Tan Loi Village said that all residents in the village hold Mr. Canh in high esteem for his persistence in learning.
 
Mr. Canh said that he has learnt oriental medicine for years with desire to treat residents in the village yet he has not granted permission for practice as he had not graduated high school graduation examination. He added he was applying to continue study of oriental medicine.