The latest revision on a plan to develop Vietnam's educational system by 2020 fails to position the country's education in the world map.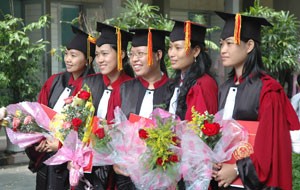 New graduates from An Giang University in 2008
"What we call 'achievements' or 'weaknesses" in our education may not be so if we consider the progress made by similar countries," Thai Ba Can, Rector of the University of Technical Education – Ho Chi Minh City told the nationwide teleconference held Friday.
Professor Can said the assessment of national education in the education ministry's Development Strategy for Vietnam's Education 2009-2020 was "qualitative and subjective," having no scientific study to back it up.
The overview, for instance, is broken down into two parts "achievements" and "weaknesses," neither of which is identified according to world standards such as the UNESCO's.
Can said an unscientific approach also dooms other parts of the document, the ministry's 14th attempt to map out a coherent plan before submitting it to the Prime Minister.
The ministry announced its 14th revision in December and is now collecting comments from different sectors.
Criticisms have been directed at the draft's unnecessary goals such as having two universities among the world's top 200, and 15,000 foreign students at local universities – all by 2020.
At yesterday teleconference organized for college and university presidents, professor Can pointed out other faults in the document.
The paper, he said, fails to articulate educational "goals" in another language other than "target figures."
Nor does it mention solutions to these so-called goals.
"One goal is to bring 15,000 foreign students to our universities," Can said. "But how?"
The practicality of targets is another concern for the educators.
Though the latest revision includes the breakdown of goals for different phases within the next decade, educators said it still doesn't answer how much it would all cost.
"This paper is fine - as a long-term development strategy for the Ministry of Education and Training," said Vo Van Sen, Rector of the HCMC University of Social Sciences and Humanities.
"But if it aims to be announced to the whole nation as Vietnam's education strategy for the next ten years, then it will need a lot more revisions."
Nguyen Thi Tinh, Vice Rector of the Hanoi National University of Education, said the ministry is yet to capture its vision and mission into a concise "declaration" that would go straight to a teacher's heart.