Lam Van Tai, chairman of the consultancy board for a steel company, and resident in District 6 of Ho Chi Minh City donated VND 2 billion (US$125,000) to build the primary school B Loc Ninh in the community of Loc Ninh, in the Hong Dan District of the Bac Lieu Province.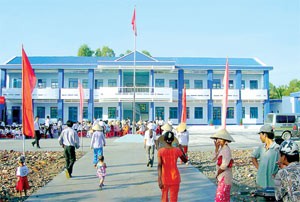 B Loc Ninh primary school is built as a gift for teachers and pupils in Bac Lieu Province
Lam Van Tai was born and raised in the Loc Ninh community. Upon a recent visit he witnessed many poor and uneducated children with no school and no resources to build them, thus locking them into a cycle of poverty and ignorance. Therefore, he took matters into his own hands and had the school built.
 
The two-floor school building is comprised of eight classrooms and a library. There was also a well dug to ensure running water for the facility. The school is adequate for up to 400 pupils.
 
The school, B Loc Ninh, was opened on Teacher's Day (November 20) as a gift for teachers and pupils in this Mekong Delta community.