Viet Nam's Asia Commercial Bank (ACB) inked an agreement with RMIT University Viet Nam on Tuesday to provide loans for local students who wish to study at the university.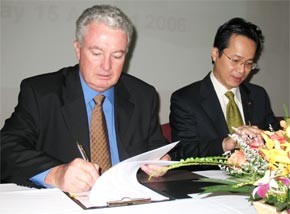 Michael Mann (L) and Ly Xuan Hai ink the deal at the RMIT Viet Nam campus in Ho Chi Minh City. (Photo: Tuong Thuy)
The loan agreement applies to students attending English courses, diploma, undergraduate and postgraduate degree programs at RMIT Viet Nam, which is also based in Ho Chi Minh City like the bank.
"ACB is also willing to provide other financial services for the students when they want to take a higher-level course after completing RMIT courses," said ACB president Ly Xuan Hai, who signed the agreement with RMIT Viet Nam president Michael Mann.

Mr. Mann said, "RMIT Viet Nam is pleased to cooperate with ACB to give Vietnamese parents a chance to make an investment in their children's future. The student loan program will make world-class education available to those who may not afford the opportunity."
The program's loans have preferential interest rates and may be up to 100% of the collateral value, and loan documentation can be notarized afterwards.
The program is part of a credit program ACB is running under a deal with the US Agency for International Development only for BA and MBA programs in Viet Nam approved by USAID.
RMIT Viet Nam is one of the USAID-approved educational institutions. 
Related article
ACB Bank, USAID Provide Financial Support for Students