The UK-based Association of Chartered Certified Accountants (ACCA) has celebrated the 10th anniversary of its classes in Viet Nam and one-year cooperation with the Vietnam Association of Certified Public Accountants.
ACCA in Viet Nam currently has 164 active members, 18 affiliates and 1,419 students, ACCA's Viet Nam chief representative Nguyen Phuong Mai said at a celebration ceremony in Ho Chi Minh City on Wednesday.
She expressed her gratitude for the contribution that five foreign companies namely Arthur Andersen, Deloitte, Ernst & Young, KPMG and PricewaterhouseCoopers had made in the initial period of ACCA in the nation.
Ms. Mai also sent many words of thanks to such companies as BP, Unilever and Vietnam Brewery Ltd. – those who have sent their staff to ACCA classes to get internationally recognized certificates in accounting and auditing.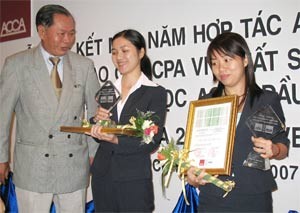 Dinh Thi Nhu Hoa (R) and Nguyen Thi Hanh (C) receive their awards in Ho Chi Minh City on Wednesday. (Photo: Tuong Thuy)
To mark their one-year cooperation, ACCA and the Vietnam Association of Certified Public Accountants (VACPA) presented awards to the top ten certified public accountants who earned high scores in ACCA examinations last year. Only two of them are working in Ho Chi Minh City – Nguyen Thi Hanh and Dinh Thi Nhu Hoa, both from auditing firm A&C – and the other eight work in Ha Noi.  

The Vietnamese Ministry of Finance has recognized ACCA certificates via an agreement on organizing examinations in Viet Nam to help domestic and international students obtain internationally recognized certificates.

The director of the Accounting Policy Department under the ministry, Dr. Bui Van Mai, is also president of VACPA, which was set up in April 2005 to support the development of accountancy profession in the nation. 
Currently, organizations in Viet Nam authorized by foreign professional associations to provide pre-examination training for those who want to become an internationally certified public accountant include FTMS and Raffles of Singapore and the Hanoi National Economics University. Australia's Swinburne University of Technology also provides training for a CPA Australia certificate.
Related links
ACCA 
Vietnam Association of Certified Public Accountants