The Vietnam arm of the British Association of Chartered Certified Accountants (ACCA) held an information session on ACCA's Foundations in Accountancy program and professionalism in Ho Chi Minh City Sunday.
Phan Dinh Phung Indoor Stadium in District 3 was packed with higher education and high school students who came to get insight into the global body for professional accountants.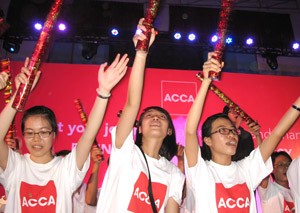 Students join the ACCA information session event at Phan Dinh Phung Stadium in Ho Chi Minh City on May 29, 2011 (Photo: Minh Tuong)
Foundations in Accountancy consists of a suite of awards, including certificates, diplomas and a Certified Accounting Technician (CAT) Qualification, said Ms. Le Thi Hong Len, country head of ACCA Vietnam.
The flexible awards focus on the core skills of financial accounting and management accounting, and the wider role of the accountant in business at higher levels, according to her.
For students, it provides flexible entry points with certification awarded at each level, allowing students to develop their education and skills, making them an attractive and relevant choice for employers, said the ACCA country head.
She said even a high school student, not a higher education one, can register for Foundations in Accountancy. The first 200 students putting their names down for FIA since the information session will take a scholarship valued at VND1.2 (US$60) each.
Certified Accounting Technician, or CAT, is a lower level certificate in order to build the foundation for ACCA, thus also called mini ACCA. It requires the students not only to pass the tests but also to demonstrate work experience. In addition to completion of all test subjects, the students have to acquire at least one year of practical experience in accounting and auditing before being granted the CAT certificate.

The country head said ACCA worldwide currently has 147,000 members and 424,000 students across 170 countries, including some 450 members in Vietnam. ACCA members are widely recognized in the world.

Ms. Len added that ACCA officially opened its representative office in Ho Chi Minh City in 2002, and another representative office in Hanoi two years later.