RMIT International University of Vietnam and the Australian accountancy body CPA Australia agreed to support in the promotion of international standards of accountancy education and professional development within Vietnam at a signing ceremony on January 14.
At the ceremony, the two organisations agreed to continue their joint work and support each other.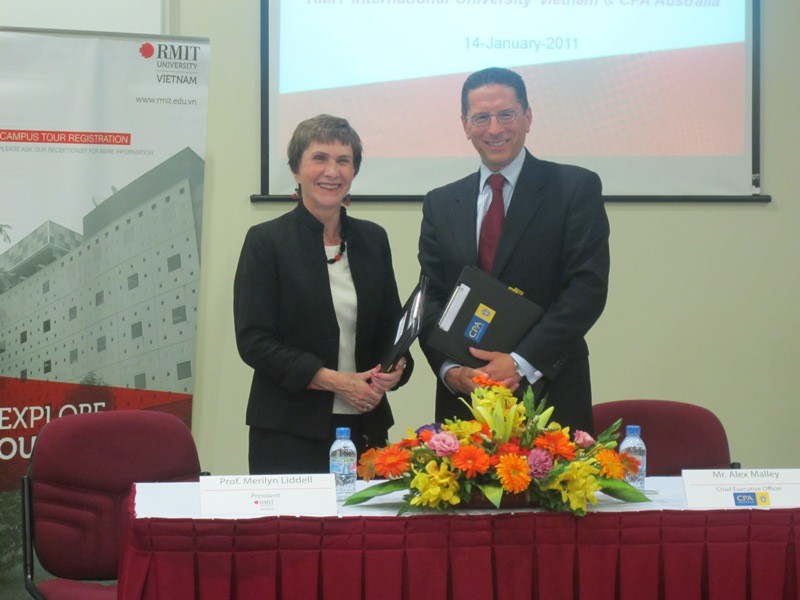 RMIT Vietnam president Professor Merilyn Liddell and Alex Malley, CEO of CPA, at the signing ceremony (Photo: Nha Tran)
RMIT Vietnam president Professor Merilyn Liddell said, "Stronger links between Vietnamese accountancy graduates and the international profession will make our Vietnamese accountancy graduates more employable both in Vietnam and overseas, and importantly, assist Vietnam's efforts in achieving high levels of accountancy excellence, which is needed for effective financial management in the rapidly changing areas of business, industry and government".
The agreement between RMIT and CPA, one of the world's largest accountancy bodies, has a membership of 130,000 professionals.
Additionally, in the coming year, CPA will give financial support to two RMIT Vietnam Bachelor of Accountancy graduates and be able to undertake fully in CPA Australia professional accreditation program. In addition, CPA Australia will offer four partial scholarships.
Three of the first CPA scholarships were announced at the event. The full scholarship award was granted to Nguyen Ngoc Lam Hong, an accountancy graduate from RMIT Vietnam who is now working at the Vinh Duc Home Joint Stock Company, a housing developing enterprise, as a senior investment officer in HCMC.
Partial scholarships were also awarded to Nguyen Le Thuy An, and Nguyen Thi Bao Nhung, the latter of whom is working for a international accountancy firm in Hanoi.
As part of the agreement announced today, CPA will also substantially subsidise the cost of one new student commencing the Bachelor of Business (Accountancy) program in 2011.
In the coming year RMIT will provide speakers for CPA events in both Hanoi and HCMC, display materials on campuses regarding CPA promotions and participate in tuition programs that CPA provides to its members.