The Student Support Center in Ho Chi Minh City has announced that the program Tiep Suc Mua Thi (Support Students in University Entrance Exam) which was launched by the Vietnam Students' Association will resume from June 3 till the end of the exams.
Under the program, students' associations, students support centers and youth unions of 40 universities and colleges in the city will offer free meals, bus tickets, maps and free or inexpensive lodgings to candidates and their relatives.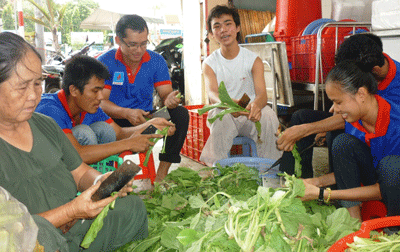 Student volunteers prepare meals for candidates (Photo: SGGP)
Quach Hai Dat, director of the HCMC Students Support Center, said the center had prepared 60,000 free meals and 40,000 lodging houses, including more than 8,500 gratis ones, for candidates from low income families.
Dat added that the center along with Phuong Trang Transport Company will pick up 100 poor students from the southern provinces of Tay Ninh, Dong Thap, Tien Giang, Ben Tre and the central province of Binh Thuan to bring to exam venues in the city for free. In addition, the organizers will pay all tuition fees for the poor students, if they pass the entrance exam.
There is happy news for candidates of Nguyen Tat Thanh University, as the school will supply 7,000 free meals and drinks; 1,200 free lodging houses; 2,000 inexpensive houses; 5,000 pens; and 500 city maps for candidates and their relatives.
Moreover, 100 student volunteers will be ready for driving examinees and relatives to exam venues and to pick them up.
The management board of the Vietnam National University in Ho Chi Minh City announced that it will supply 4,000 beds in the school's dormitory for candidates and relatives. To apply for a place in the dormitory, students should send a photocopy of their identity cards along with a covering letter and a fee of VND10,000.
Students' relatives who accompany the students must have identity cards and pay a fee of VND30,000 per person per day. Anyone who wants to stay in the dormitory should contact the Management Board at Floor A1, Linh Xuan Ward, Thu Duc District, HCMC or phone (08) 37242265 or visit website: http://ktx.vnuhcm.edu.vn