Many activities were organized nationwide yesterday to mark Students' Day.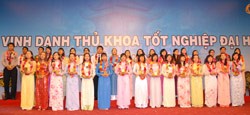 Top graduating students at the ceremony
34 university students from HCM City, who got the highest grades in their graduation exams, were honored at 'Nguyen Khi Quoc Gia' (National Treasure), a program jointly hosted by Dong A (East Asian) Bank and HCMC TV at the Independence Palace.

Each top student was awarded a medal and VND2 million ($113) by the Bank

In Hanoi, the Vietnamese Students' Central Association worked with the VTV6, Hanoi Students' Association and Vietnamese Student Magazine to organize 'Tu Hao Sinh Vien Viet Nam' (Proud to be Vietnamese students) to mark the 59th anniversary of the founding of the Central Association and to celebrate Students' Day.

218 awards, 'Sao Thang Gieng' (January Stars), were presented to members of the Ho Chi Minh Communist Youth Union and the Vietnam Young Federation who have not only excelled in their studies for the current academic year, but who have also made significant contributions to student campaigns nationwide.

On the night, a music show 'Dong Thoi Gian' (The course of Time) was organized at the HCMC Women's Culture House to introduce once popular songs by Ton That Lap and Tran Long An, two musicians who wrote songs for students' campaigns against the US invasion of Vietnam.

Hundreds had a chance to listen to songs, which had been sung aloud on the streets of Saigon by thousands of high school and university students who took part in anti-government and anti- American demonstrations before 1975.