The Asian Development Bank approved Wednesday a financing plan for Vietnam's secondary education development program which includes a sector development program loan of US$20 million, and a project loan of US$40 million.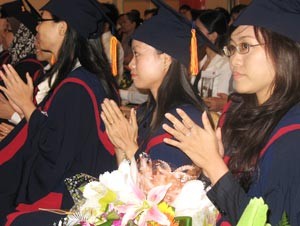 Higher education graduates at a graduation ceremony in Ho Chi Minh City. A good secondary education is regarded as key to higher levels. (Photo: Tuong Thuy)
The program aims at providing students with skills to succeed in an increasingly knowledge-based, market-driven global economy.
"Vietnam needs to improve the quality of its labor force to stay competitive in the region and to sustain growth, and this program will increase the skills and performance of secondary school graduates in the labor market, improve participation and completion rates, and make schooling more accessible and affordable," Eiko K. Izawa, senior education specialist in ADB's Southeast Asia Department, said in a statement.
A fact in the country is the composition of the economy has been changing with a shift away from agriculture, towards industry, technology and services. This change has created a growing need for graduates with skills matched to the new needs of the economy, and a good secondary education is regarded as key to achieving this.
Enrollment levels for secondary schools have grown sharply in recent years, reaching over 90% at the lower level, but there have been widespread inconsistencies in the quality of education across the country, as well as persistent inequalities in access, according to the ADB.
The program is expected to address these concerns by updating the country's secondary education sector master plan, developing new national standards for secondary schools, upgrading the curriculum, improving the quality of secondary teachers, establishing a national accreditation board and new learning assessment system, and expanding continuing education.
The ADB said the total financing costs are US$71 million. The bank is to provide a combined $60 million from its concessional Asian Development Fund, and the Vietnamese government will contribute counterpart funds of $11 million.
The program loan, which will be released in two tranches, has a term of 24 years, including a grace period of eight years, with an interest rate of 1% per year during the grace period, and 1.5% for the rest of the term. The project loan has a term of 32 years, with a grace period of eight years and the same interest rates schedule. It will be used to aid the rollout of the program, according to the ADB.
The Ministry of Education and Training is the executing agency, with the program loan component due for completion in December 2012, and the project by June 2015.