The Asian Development Bank (ADB) on Monday signed a deal with the State Bank to lend Viet Nam US$34 million to provide training for high school teachers.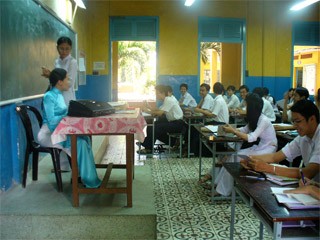 A class at a high school in Ho Chi Minh City (Photo: Uyen Phuong)

According to the ADB, Viet Nam has taken great strides toward improving the education system with attendance rates reaching 94% at primary schools and 51% for secondary schools (compared to 19% in 1993 for high schools).
 
It is predicted that Viet Nam will need some 58,000 qualified high school teachers by 2010.
 
Along with the training, the project, at a total cost of some US$43 million, will also collect and analyze educational data and modernize school facilities.