Parents anxious to send their children to study overseas may fall into the traps of unscrupulous agents who offer empty promises to fill their own pockets.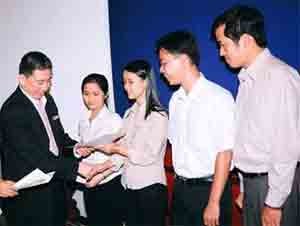 Corporate staff receive certificates after one AEI training course (Photo: Tuoi Tre)
Mrs. Nguyen Thi Bich Phuong has been searching desperately for four months now to find a suitable overseas study agent, but in vain.
First, an agency on Nguyen Thi Minh Khai Street in District 3 charged her an astronomical fee with no results, then one near Hang Xanh Roundabout in Binh Thanh district promised big results, but offered no concrete guarantee.
In district 10, the anxious mother approached another agency where an array of foreign scholarships were on offer, but she was disappointed to find out they were of little value, and she would still have to pay for tuition, accommodation, and other fees.
Frauds?
Just recently, three businessmen were arrested for conning 40 parents out of US $400,000. They each deposited US $10,000 to Tri Phat Limited Company in Ha Noi which had promised to send their children to study in the Republic of Korea.
The business men accepted the money, but didn't follow through on their end.
Earlier, another agency was bogged down in a scandal when giant insurer Prudential declined to insure its students on the grounds that the school location (a remote island) was not safe.
According to TTA, an education officer at a consulate in Ho Chi Minh City, many employees at major overseas study companies have left and founded their own companies.
These independent owners face difficulties as most foreign universities trust only larger firms.
Thus, to prevent losses, new companies seek out fraudulent methods to attract students.
The government-run Australian Education International (AEI) in Vietnam recently said it could not assess and accredit all agencies sending Vietnamese students to Australia.
Meanwhile, Duong Thi Thuong, director of the UK's Study Group in Vietnam said she only trusts about 20 agencies in Ho Chi Minh City and 15 in Hanoi.
Thuong advised visiting at least several different consultancy companies to compare their services before committing to any one.