A leading Australian accountancy body, CPA Australia, August 6 announced an agreement with RMIT International University Vietnam to promote international standard accountancy education in Vietnam.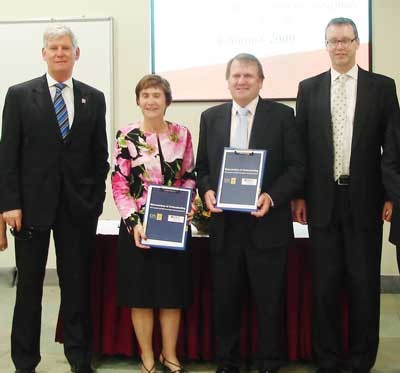 The Australian Consul General Graeme Swift (1st L), Prof Merilyn Liddell (2nd L) and CPA Australia CEO Geoff Rankin (3rd L) at the signing ceremony (Photo; U.Phuong)
CPA Australia's CEO, Geoff Rankin, said CPA Australia's Memorandum of Understanding with RMIT would enrich the high-quality educational opportunities RMIT offered Vietnam's students, particularly in finance and business streams.
"Both parties are dedicated to contributing to the development of the accountancy profession in Australia and Vietnam," Mr. Rankin said.
"Both parties share common and strong interests in the advancement of the profession, especially in relation to the maintenance and strengthening of professional standards and educational standards, as well as the internationalisation of the profession."
Mr. Rankin said the increasing convergence towards global standards in accounting and auditing meant the opportunity for professional bodies to collaborate and share their expertise had never been greater.
The Australian Consul General Graeme Swift in Ho Chi Minh City also attended the ceremony.
The agreement will take effect on August 6.
CPA Australia had previously signed a memorandum with the Vietnam Association of Accountants and Auditors, part the Vietnam Association of Certified Public Accountants and Hanoi-based National Economics University.