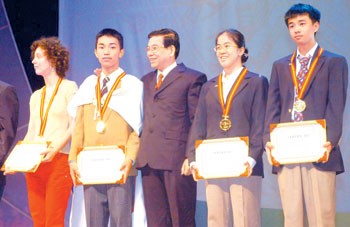 President Nguyen Minh Triet (C) presents medals and certificates of merit to winners.
Speaking at the closing ceremony of the 48th International Mathematics Olympiad (IMO), Professor Joshep Pelikan, president of the competition's advisory council, said he greatly appreciated the thorough organization of the event and thanked the friendly Vietnamese people for their hospitality.
Vietnamese president Nguyen Minh Triet also applauded the organizers and added that all the competitors and not just the medal recipients should feel like winners for their efforts to conquer the problems in the Olympiad.

Ha Huy Khoai, vice president of the IMO2007 Organizing Committee, revealed that the test questions had been selected from 120 questions from 34 countries.

After talks on choosing the sixth question from the Netherlands, the hardest of them all, the organizers worried that the students would not be able to solve it, Mr. Khoai said.

In the end, five contestants managed to solve that problem, though none of them was Dutch.

Tran Van Nghia, another vice president of the IMO2007 Organizing Committee, announced that 39 contestants had been awarded gold medals.

None of them scored the maximum 42 points, however. The best final score was 37, by a Russian.

Last year in Slovenia, Viet Nam came 13th out of the 90 competing countries and territories with two gold, two silver and two bronze medals.

This year Viet Nam stands third on the podium with three golds and three silvers, a remarkable effort by Vietnamese students.

The closing ceremony for the 48th International Mathematical Olympiad 2007 was held yesterday at the My Dinh National Convention Center in the presence of Education and Training Minister Nguyen Thien Nhan.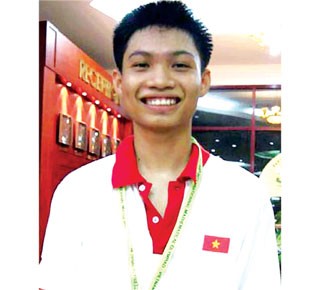 Do Xuan Bach, a Vietnamese gold medalist
At the end of the ceremony, Deputy Minister of Education and Training Tran Van Nhung, president of the IMO2007 Organizing Committee, handed over a banner to the head of the delegation from Spain, where IMO 2008 will take place.

The three Vietnamese gold medalists - Do Xuan Bach, Pham Duy Tung and Pham Thanh Thai - talked about their passion for maths.

Tung thinks that determination is the key to studying math while Thai views mathematical problem solving as a way to relax.

Bach spends three hours on math and feels like he has conquered a mountain after finding out a solution to a difficult problem.