A specific plan to provide additional allowances for Vietnamese students learning abroad under Project No. 322 (granting state scholarships to Vietnamese students) is still considered by the Ministry of Education and Training before submitting it to the government for approval.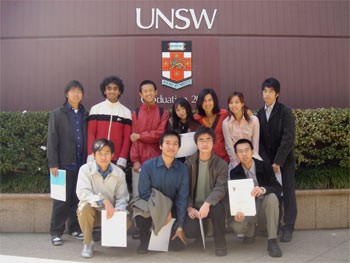 Students of Viet Nam and other Asian countries at the Univerity of New South Wales in Australia. (Photo:KK)
Two plans to raise scholarship allowances are now being examined. Firstly, allowances for all Vietnamese students studying in countries around the world are equally increased 10%. Secondly, the allowances increases are based on the real conditions in each country.
According to Vietnamese embassies, from the reflections of Vietnamese students learning abroad about their needs and based on the specific conditions in local countries, scholarship allowances for them should be increased by 4.4% to 15% against the present rates.

The highest rise of scholarship allowances would be for Vietnamese students learning in the UK and Russia. Those in Australia and New Zealand would enjoy an increase of 14.5%, European countries 10%, Eastern European and Asian countries 7.4%, China 6.25% and the U.S 4.5%.
The managing board of Project No. 322 has also proposed that the Ministry of Education and Training coordinate with financial management state agencies to grant allowances to Vietnamese students in local currencies of the countries where they are staying and studying like the pounds sterling, the Australian dollar, the Russian ruble, ect.