The US-based Vietnam Education Foundation (VEF) has announced an education exchange program called "American Professors Teach in Viet Nam" to assist Viet Nam in developing its science and technology education and help Vietnamese lecturers overcome problems they face in teaching.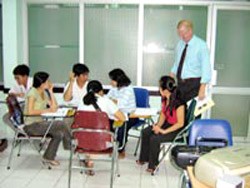 More American professors will come to Viet Nam to teach at universities
Dr. Nguyen Thi Thanh Phuong, VEF chief representative in Viet Nam, said American professors, associate professors and emeritus professors can apply to teach at a Vietnamese University in the fields of natural science, mathematics, medicine, and technology.
 
The program will begin from the school year of 2008-2009. Professors will receive US$70,000 in support from VEF, she said.
 
VEF is to receive US$5 million annually from the US Congress until 2018 to help strengthen Viet Nam's education sector.
 
VEF also aims to provide finance for outstanding Vietnamese candidates to join graduate and doctorate programs as well as do research in the US.